FREQUENT QUESTIONS
How is our roast?

Our roasting point is very special and delicate, since we roast the nuts in horizontal trays with a single layer of nut grains, without letting them overlap each other, and turning it by hand every 8 minutes to get a toast perfect, at the limit of the maximum crunchy point that can be achieved, which is why our nuts have that special "crunch". This very special roast, in addition to checking it when biting, can be "seen" by biting a dried fruit in half and looking inside, you will see that it is completely golden.
Why do we only use natural ingredients and all our nuts are free of allergens?

At Finca La Rosala we believe that food producers and processors have to ensure the highest quality in our food, without artificial ingredients and trying to reduce all possible allergens in each of them. Better foods can be made without these ingredients, which is why we only use natural ingredients and all our nuts are gluten-free, lactose-free and suitable for vegans (with the exception of our Honey Pecan and Gold Almond, which contain rosemary honey) .
Why does Finca La Rosala only use raw materials of first quality-calibre and, if possible, of Spanish origin?

Our goal is to have the best nuts on the market, which is why at Finca La Rosala we do not stop looking for the best quality and largest calibers of each nut. On the other hand, at Finca La Rosala we support everything local and national, as far as possible, obviously cashews are not grown in Spain, so we have to buy them from another source. Nor are our peanuts, hazelnuts, walnuts or pecans, although there is production in Spain (of very small peanuts and pecans and consolidated walnuts and hazelnuts) we cannot buy them due to the little stability when buying that they have during the 365 days of the year, but all our varieties of pistachios (organic pistachio from our Finca La Rosala and the conventional one from friendly plantations in Castilla La Mancha) and almonds are national, of the highest quality and of the highest caliber. Inform you that both the origin and the caliber are indicated on the page of each product.
Did you know that the nuts that we generally eat raw are not fresh but "dried"?

Raw nuts, when they are fresh and have only been harvested for a few months, or have been stored in a cold room between 4-6ºC and no more than 1 year has passed (next harvest) , are soft, moist, because they still contain a higher percentage of water, plus they have a more powerful flavor. If you eat "raw" nuts and they are "crunchy", they are raw nuts that have not been stored properly or from a previous harvest (in some cases both options) , which have dried out over time. Well-preserved raw nuts and last harvest : Moist + Powerful flavor. Poorly preserved and/or old raw nuts : Dry + Mild flavor.
What is the difference between the Jumbo Peanut and the rest of our peanuts (from the same variety: Runner 38/42)?

Our Jumbo Peanut is one of the crunchiest peanuts (beware that it may seem "hard" to some palates) on the market, since it is roasted for that purpose, it is its main characteristic, totally different from the rest of our peanut references, in which we use the most common/known peanut (runner) , which is creamier. For this specific reason, we only sell Jumbo Peanuts individually, since it is a very specific product that has a more particular audience. This Jumbo Peanut was the mythical "Panchito" that Angelito roasted in an exceptional way and with which we learned to roast our nuts.
What is the difference between our different varieties of almonds: Largueta, Valencia and Marcona?

At Finca La Rosala we have 3 varieties of almonds, each one with unique and different properties: Largueta Almond: The most fibrous almond, the best for toasting. Once toasted, the skin is removed with a simple snap of the fingers. It is offered with toasted skin with or without salt. Valencia Almond: Sweet, rich almond, ideal for almost any use, it is the most used (without skin) in cooking and pastry preparations, as well as as a snack. It is offered with or without raw skin and with or without roasted skin with or without salt (roasted only without skin since once roasted the skin is very difficult to remove) . Marcona Almond: The queen of almonds, considered the best almond in the world and, therefore, the most valuable. Unbeatable flavor, the sweetest almond and a more "clay" texture than the Largueta Almond (for this reason it is used in haute confectionery ). It is only offered without skin, but raw, toasted without / with salt and toasted with flavors (Rosemary, Gold and Truffle) . *In terms of nutritional properties, the differences between each variety of almonds are minimal.
What is the difference between organic and conventional nuts?

The difference between organic and conventional nuts is that the former have only been treated during their cultivation with natural fertilizers and fertilizers, without any type of chemical ingredient, while the latter, within the EU food quality framework, may contain low percentages of chemical ingredients. In relation to the nutritional contribution as such, there are no great differences, but if you want to have a healthier and more ethical diet with the environment, without a doubt it is much more advisable to consume organic nuts, since the difference in terms of health is not is fully reflected in the ingredients or nutritional values. On the other hand, in terms of taste, the differences are very subjective, in a blind tasting it would be difficult to say which is which, since the flavor may be more natural in the organic one, but more natural sometimes means less flavor power, so it could confuse the consumer as to which is better or which is the organic nut. Finally, Finca La Rosala has its organic food certificate granted by an external audit agency authorized by the EU (we are audited every 2-3 months) to control that all raw materials, processes and transformations are done in accordance with the law. organic food existing today. Here we attach said certificate updated to this day: BIO NUTS FINCA LA ROSALA CERTIFICATE https://drive.google.com/open?id=0B_hhRNBJ9tm1Um5IOEZkUHJNNzg. Differences and explanations between our Ranges: Gourmet, ChocoNuts, Chef and Origin. At Finca La Rosala we classify our nuts into different ranges to highlight them and keep them better organized. Here is a summary of each one: Gourmet Range: Pure innovation. Unique dried fruits in the world. Artisanal roasted with natural ingredients and surprising flavors, extracted from nature itself. *Currently this range is only offered in conventional . ChocoNuts range: Nuts toasted with whole cane sugar with a subsequent coating of dark chocolate with a minimum of 60% cocoa. Simply delicious. *Currently this range is only offered in conventional. Chef Range: Classic-style nuts, roasted by hand, to the point of salt and with a touch of paprika from La Vera. Also available hand roasted without salt. *These can be conventional or organic. Origin Range: Raw nuts from the best plantations. Ideal to consume them in a natural way. *These can be conventional or organic.
Does Finca La Rosala produce any of the nuts offered in our online store?

Finca La Rosala is the name of our farm, which is located 8 km from Calzada de Calatrava in a southerly direction. The name of Rosala has its origin in the 19th century, when it was called Rosada, since the earth is reddish pink, which, over time, became Rosala. There, in La Rosala, we have an organic pistachio plantation of about 22 hectares since 2009, so you can enjoy our organic pistachios bought directly from us.
Did you know that nuts should always be kept in the fridge?

Very few people know that nuts must be kept in the refrigerator, yes, hermetically closed (zippered bags or glass jars) , because if they are not hermetically closed they get wet. The reason for keeping them cold (4-6ºC) is because in this way they preserve all their organoleptic properties for much longer, since once opened, hermetically closed and in the refrigerator, they last up to a year as if they were from the first day. Preserving all its properties and, if toasted, its perfect texture. Check it out for yourself at home, you will be surprised! PS: It is recommended to take it out 10 minutes before consuming, so that it warms up, since the cold reduces the flavor slightly, like most foods stored in the refrigerator.
Did you know that fried nuts are much more harmful to health than roasted ones?

The fruits contain a high content of calories and vegetable fats, which are good for our body and it burns them quickly, but if we fry them, we are adding even more fats to them and not so good. In addition, this makes them heavier and costs the body even more to digest them, causing stomach pain in people who have a delicate stomach. At Finca La Rosala we strongly recommend, like any nutritionist, that nuts be eaten raw or toasted (roasted without salt or anything else are the healthiest of these) , just as we make them.
¿Por qué se producen almendras amargas y cómo en España se trabaja en su erradicación?

El tema de las almendras amargas es casi inevitable. En Finca La Rosala estamos constantemente avisando a los proveedores de que controlen el tema, quienes nos recomiendan comprar calibres altos en los que son difícil encontrar almendras amargas, pero aún así, siempre se cuela alguna. Este problema existe en España desde siempre y por mucho que quieran controlarlo, siempre hay algún agricultor que no comprueba su cosecha y tendrá algún árbol que sea de almendras amargas y estropea el lote completo.

La principal causa de las almendras amargas se debe a la presencia de un gen específico que produce amigdalina, un compuesto tóxico que genera un sabor amargo en las almendras. Este gen puede transmitirse de forma hereditaria en ciertas variedades de almendros y se propaga a través de la reproducción sexual de las plantas.

Para erradicar este problema, se están implementando diversas estrategias. En España, se llevan a cabo investigaciones y análisis genéticos para identificar y eliminar los árboles que portan este gen. Además, se promueve la utilización de variedades de almendros dulces y resistentes a la amargura. También se realizan campañas de concienciación para que los agricultores tomen medidas preventivas y eviten la propagación de almendras amargas.

Estos esfuerzos son fundamentales para asegurar la calidad y seguridad de las almendras en el mercado. Puede leer un reciente y amplio estudio sobre el tema aquí.
¿Qué hacer si detecto almendras amargas?

En Finca La Rosala nos tomamos muy en serio cualquier queja de calidad de nuestros productos, siendo el lograr la excelencia nuestra misión diaria.

Si detecta presencia de almendras amargas por favor proceda a enviarnos al correo de comercial@fincalarosala.es o a nuestro WhasaApp Business +34 651 80 88 19 la siguiente información:

Número de pedido
Código o referencia del producto
Foto de la parte trasera de la bolsa donde verá el número de lote

Trasladaremos la consulta a nuestro departamento de Control de Calidad y le daremos solución gestionando la devolución o reemplazo del producto, además del reporte directo del caso a nuestro proveedor para la compra de almendras, las cuales no producimos en nuestra Finca.
¿Cómo tostamos los frutos secos para conservar, en lo posible, todas sus propiedades?

Para un conocimiento global, cuando se calienta cualquier alimento, éste va perdiendo sus  propiedades organolépticas (las propiedades organolépticas son todas aquellas descripciones de las características físicas que tiene la materia en general, según las pueden percibir los sentidos, como por ejemplo su sabor, textura, olor, color, sonido) en función de la temperatura, cuanto más alta es la temperatura más propiedades pierde. Por eso está muy de moda el cocinar a baja temperatura (por debajo de los 70 grados). Esto quiere decir, que estamos procurando conservar las máximas propiedades de ese alimento, haciéndolo a fuego lento, como lo hacían nuestras madres, abuelas y expertos en cocina. Y así aprovechar todo su sabor, aroma, textura, etc.

Cuando tostamos frutos secos, lo tenemos que hacer a media temperatura como mínimo para poder conservar, no todas las propiedades pero sí bastantes, esto es entre 130 y 150 grados. Ya que si lo hacemos a baja temperatura, los frutos secos quedan pálidos, blanquecinos y con una vista no muy atractiva y si lo hiciéramos a alta temperatura entre 170 y 220 grados, como generalmente lo hace todo el mundo, saldrian más oscuros y menos sabrosos, ya que perderían casi todas sus propiedades.

Hay que tener en cuenta, que cuando cocinas a baja temperatura, requiere mucho tiempo para que un alimento se haga, si lo cocinas a alta temperatura, el tiempo de cocinar es muy corto, ya que si no quemamos el alimento.

Por eso Finca La Rosala, escogió el término medio, donde el tiempo y la temperatura se combinan para lograr un tueste perfecto, procurando mantener el máximo de propiedades organolépticas. Dependiendo del fruto seco que se tueste, se le da menos o más temperatura y más o menos tiempo.

Procuramos que el fruto seco esté tostado por dentro, no quemado y exteriormente tenga un color amarillo/naranja que identifica el tostado ideal del fruto seco.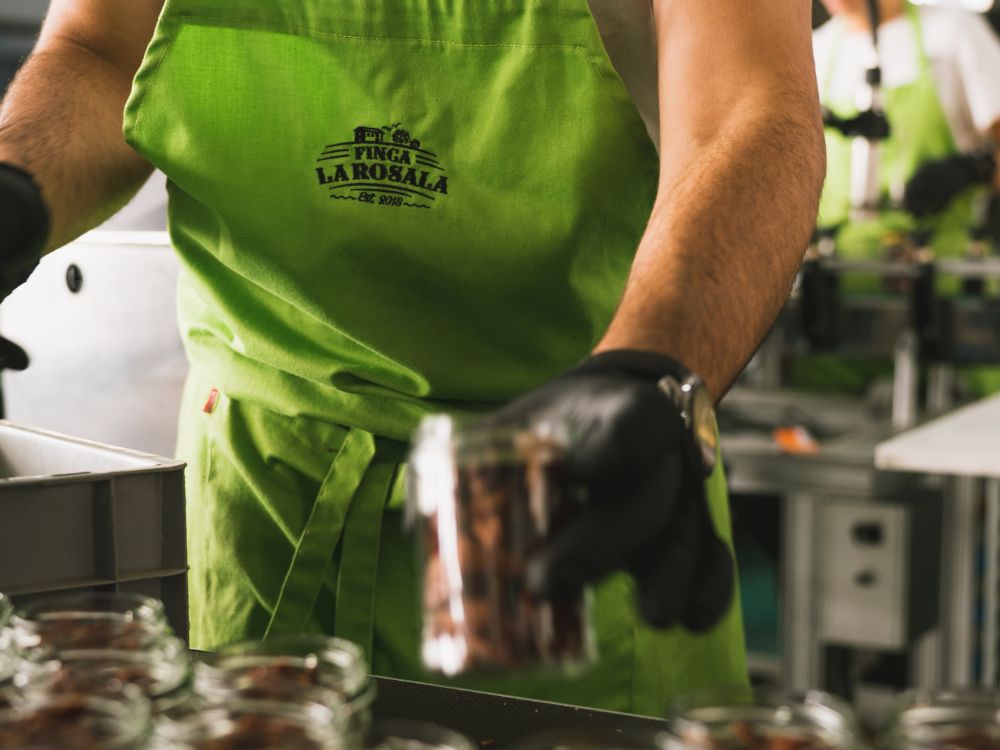 OUR CONTACT
FACTORY (physical point of sale)
Address: C. Real, 105, 13370 Calzada de Calatrava, Ciudad Real.
Hours: From 08:30 to 14:30 from Monday to Saturday.
Telephone: +34 926 876 863.
Email: info@fincalarosala.es .
DEPT. COMMERCIAL B2B (professionals)
Address: Cowork Up! Carles Cervera 14. Bass. 46006 Valencia.
Hours: From 08:30 to 18:30 from Monday to Friday.
Telephone: +34 651 808 819.
Email: comercial@fincalarosala.es .